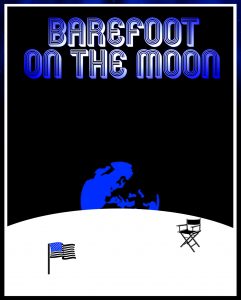 Written and Directed by Joshua Bainbridge
Touring 2019/2020
120 minutes
Cast: 10
 Barefoot On The Moon is set in Sudbury Ontario, 1969 and tells the story of a small group of amateur filmmakers who are commissioned for a very big job. They must create one of the greatest lies in recorded history. They must convince the world we landed on the moon.
"While showcasing the company's talents, Bainbridge explores the lifelong tension between American dreams and nightmares."
                            -BayToday
CAST
Jennifer Carroll – Barbara Kane
Kelsey Ruhl – Jo/JFK/Nixon
Graham Ross – Agent Steve Williams
Morgan Bedard – Howard Bailey
Joshua Bainbridge – Sid
Kaitlyn Stewart – Betty Lynn West
Matt Lishman – Charlie
Stephanie Kast – Teresa
Nathaniel Brubacher – Ray
with
Rod Carley – Agent Marshall
Active Dates
OCT 18th-19th, 2019 in STOUFFVILLE at 19 On the Park
OCT 24th-26th, 2019 in UXBRIDGE at the Uxbridge Music Hall (A part of Celebration of the Arts)
March 25, 26 and 28th, 2020 in NORTH BAY, ON (A part of the Sun Dog Theatre Festival) CANCELLED Due to COVID-19
May 18th-20th, 2020 at the BROCKVILLE Arts Centre CANCELLED Due to COVID-19
May 21st, 2020 in PARRY SOUND at the Stockey Centre CANCELLED Due to COVID-19
June 5th and 6th 2020 at the COBALT CLASSIC THEATRE CANCELLED Due to COVID-19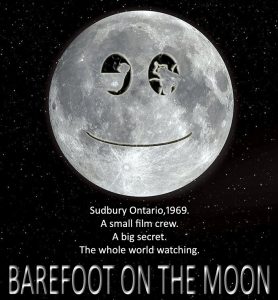 Background: Proscenium Club has been active in the Northern theatre scene for the past few years working in various capacities. After formalizing in 2016, Proscenium Club conducted their first project I Live with Him Every Day, which presented at 3 different venues in rural areas of Ontario as a pilot to establish interest in future tours. The Life and Death of John the Milkman was  he first formalized tour by this emerging theatre troupe and ran six venues over the 2017/2018 season. Director Joshua Bainbridge, who founded Proscenium Club, has been writing and producing his own works since 2010 after graduating from Canadore College's Theatre Arts program. Seeing a shortage of new theatrical works emerging from Northern Ontario, he brought together several passionate like-minded artists to form a self-sufficient professional theatre company to create and produce new Canadian works.
Support: The Proscenium Club is seeking venues to either commission or partner on our tour of Barefoot on the Moon during the 2019 – 2020 season. This is an Equity 2.1 Independent Production with a full cast and crew including CAEA members. We are open to any recommendations for scheduling, dates and performances. We also have a highly qualified group of professionals willing to conduct educational activities or workshops as part of this tour.
Proscenium Club has a vested interest in finding the best way for your presenting space to engage with this production at a reasonable rate. We want to explore partnerships and disseminate this performance as far and wide as possible.