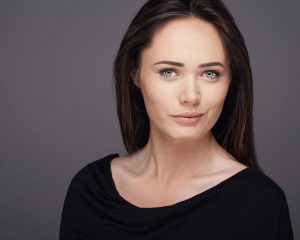 Download Kaitlyn Stewart's Full CV
Kaitlyn Stewart graduated with a Specialist High Skills Major certificate in drama as well as Canadore College's theatre arts diploma. She has performed in a variety productions including, Breath of the Wolf, People Grieving, The Man in the Iron Mask, starred as Rosalind in As You Like It, Joan in The Life and Death of John the Milkman, Abby in Poison Ground, and a Bride of Dracula in a stage adaption of Bram Stoker's Dracula. In fall 2016, Kaitlyn took on the role of Ginny in the inaugural Proscenium Club production of I Live With Him Every Day: The Tragedy of David and Dave. She played Benvolio  in the Watershed Shakespeare Festival Collective production of Romeo and Juliet. She also appeared as Esther Ross in the Proscenium Club's most 2017/2018 touring production of The Life and Death of John the Milkman.  Kaitlyn played Maggie in the Club's 2018/2019 tour of Sit, James. In television and film Kaitlyn has appeared in Hard Rock Medical, Trouble in the Garden, V-Wars, New Eden and Country at Heart.
In Barefoot on the Moon, the 2019/2020 Proscenium Club touring production, Kaitlyn played Sudbury Performing Arts Club Chairwoman, Betty Lynn West.
Kaitlyn will appear in the 2021/2022 tour of Happy Jack's Motel.
Kaitlyn is involved with a number of arts organizations and serves as a Festival coordinator for On the Edge Fringe. She is also the set painter for the Proscenium Club.