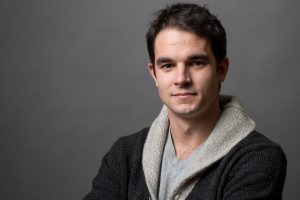 Download Morgan Bedard's Full CV
Morgan Bedard is a professional actor working out of North Bay. Morgan played the Musketeer Porthos in all three chapters of the D'artagnan Romances, Will Donnelly in The Donnellys, Roy in Lone Star, and Justin in You Are Here. He shared the win for Best Ensemble at the Theatre Ontario showcase for his portrayal of John Williamson in Glengarry Glen Ross. In fall 2014 he played the title character in Robin Hood: King of the Outlaws. In fall of 2016 he portrayed Mark in the Proscenium Club debut production I Live With Him Every Day: The Tragedy of David and Dave as well as playing the title character in Dracula. In winter 2017 Morgan starred as Romeo in The Watershed Shakespeare Festival Collective production of Romeo and Juliet. Morgan directed Final Log, at the On the Edge Fringe Festival and also appeared as Macduff in Macbeth. He spent his 2017/2018 on tour with the Proscenium Club in The Life and Death of John the Milkman. He then played Walter in Sit, James, the Proscenium Club's 2018/2019 touring production. Morgan appeared as Rev Hale in the Sun Dog Threatre festival production of The Crucible in March of 2019 and then as Agostino in Artemisia at On the Edge Fringe 2019, and as Howard Bailey in the Club's 2019/2020 tour of Barefoot on the Moon.
Morgan appeared on the television show Paranormal Witness on the Space Channel. Morgan had a multi episode guest role in Hard Rock Medical as well as the Netflix series V-Wars. He appeared in the feature films Spare Parts, Anti-Birth, Mary and Joseph, Mums the Word, Frat Pack, Lead with Your Heart, Goalie, James vs. His Future Self, The Bet, Country at Heart, Astonishing Tales of Terror, and USA/NBC series Eyewitness.
Morgan is working as Set Designer and Lead Carpenter on Proscenium Club's most recent show, Happy Jack's Motel  in which he will also appear.
Morgan is a compulsive sculptor creating challenging contemporary works from basic building materials. Morgan applies skill and passion to arts projects. Working actively with the Future in Safe Hands Collective creating visual arts installations and performance art pieces including working on the Honest Ed's Closing reception and with Aanmitaagzi.