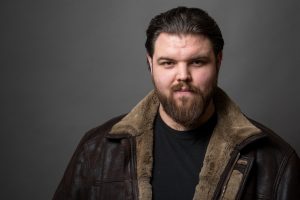 Joshua Bainbridge is the Artistic Director of the Proscenium Club and is an actor, writer, director living in North Bay. Josh founded the theatre company J2 Productions in 2009, adapting Reservoir Dogs into a stage show and starring as Mr. White. He played Ben in The Night of the Living Dead, Hank in Marvin's Room, and Richard in You Are Here. Josh has written and directed a number of original works including I Hear You Ride Horses, People Grieving: or Mamma Never Told Me About Her Life in a Box, The Three Musketeers Trilogy (appearing as Athos in all three parts), Robin Hood: King of the Outlaws (Little John), The Life and Death of John the Milkman, Paper Dolls: The Way to the Way Up and Poison Ground. In winter 2013 Josh's production of David Mamet's Glengarry Glen Ross won him the honor of Best Director at the 2014 QUONTA festival as well as winning Best Production.  Other notable roles include Edmund in the Watershed Shakespeare Festival Collective (WSFC) production of King Lear, Dave in "I Live With Him Every Day: The Tragedy of David and Dave" and Mercutio in the WSFC production of Romeo and Juliet. Josh also works in film and television and has appeared in Harold and Lorna, the feature films A Dark Truth, Mums the Word, Joseph and Mary and Country Crush as well as the television series Dark Rising: Warrior of the Worlds on the Super Channel. The USA/NBC series Eyewitness and What Would Sal Do? on HBO Canada. Joshua appeared in the first three seasons of TVO's Hard Rock Medical as a series regular. Josh will also appear in the upcoming crime series' Bad Blood and Cardinal.
Josh also engages the arts as a visual and multi-artist working with groups such as Aanmitaagzi, Future in Safe Hands Collective and on the contemporary art festival Ice Follies. Josh's media arts installation practice focuses on dystopian futures that are not far from our reality. "People need dramatic examples to shake them out of apathy and I can't do that without making art." His work engages in the macabre and often dark truths about the places that people do not want to acknowledge.
Josh recently adapted, directed and played the titular character in  Macbeth at The On The Edge Fringe Festival. Winner of two Best in Fringe Awards; Jurors' Choice and Audience Choice.
Joshua is the writer and director of Proscenium Club's most recent show, The Life and Death of John the Milkman, in which he will also appear on stage as Detective Bradley.