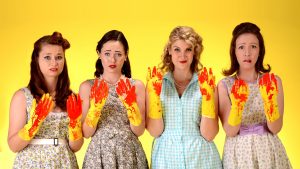 The Life and Death of John the Milkman
Written and Directed by Joshua Bainbridge
In the summer of 1959, in a little suburban town, in a very ordinary kitchen, four "regular" housewives find themselves in a very irregular situation, but how hard can it be to dispose of a dead body? This dark comedy follows the lives of four women trapped within the constraints of social expectations. How relatable can relationships from 1959 be to ones today? Perhaps more than you may expect. This is a story about four women who are ready to claim their rights, their identities, and their own independence, at any cost. This show contains mature themes and content. This show contains the smoking of herbal cigarettes.
CAST
Kelsey Ruhl – Beverly Stacey
Kaitlyn Stewart – Esther Ross
Jennifer Carroll – Shirley Harrison
Stephanie Kast – Joan Marshal
Morgan Bedard – Norman Stacey
Caleb Geden – John Walters
Joshua Bainbridge – Det. Bradley
SEPT 27th, 2017 in NORTH BAY at the Widdifield Theatre
OCT 12th-14th, 2017 in UXBRIDGE at the Uxbridge Music Hall (A part of Celebration of the Arts)
NOV 3rd-4th, 2017 in STOUFVILLE at 19 On the Park
May 29th – 31st, 2018 in TORONTO at AKI Studio
JUNE 29th and 30th, 2018 in PARRY SOUND at the Stockey Center
SEPTEMBER 7th and 8th, 2018 in COBALT at the Cobalt Classic Theatre

The Proscenium Club would like to thank the Ontario Arts Council for the ongoing support.
Our province would not be the same without you.
Background: Proscenium Club has been active in the Northern theatre scene for the past few years working in various capacities. After formalizing in 2016, Proscenium Club conducted their first project I Live with Him Every Day, which presented at 3 different venues in rural areas of Ontario as a pilot to establish interest in future tours. Director Joshua Bainbridge, who founded Proscenium Club, has been writing and producing his own works since 2010 after graduating from Canadore College's Theatre Arts program. Seeing a shortage of new theatrical works emerging from Northern Ontario, he brought together several passionate like-minded artists to form a self-sufficient professional theatre company to create and produce new Canadian works. The Life and Death of John the Milkman will be the first formalized tour by this emerging theatre troupe.
"The Life and Death of John the Milkman was one of the best shows I have seen in a long time and I go to a lot of shows. The story line had me at "hello" and the playwright's talent for capturing the best from his actors far exceeded any other community plays I have seen. The marquee value of this show is second to none and although the playwright chooses to live in North Bay, his name is synonymous with the best this province can call its honoured son."
– Dee Adrian, Executive Director of Capitol Centre Theatre
"In The Life and Death of John the Milkman Joshua Bainbridge perfectly captures the soul-deadening ennui of 1950s-era tract-home suburbia as he follows the misadventures of four beautiful, bored housewives whose penchant for revenge literally results in a bloody mess. The chemistry of the cast members is magic; never has murder been so much fun!"
– Nancy Thompson, School of Media, Design and Dramatic Arts Canadore College
Support: The Proscenium Club is seeking venues to either commission or partner on our tour of The Life and Death of John the Milkman during the 2017 – 2018 season. This is an Equity 2.1 Independent Production with a full cast and crew including CAEA members. We are open to any recommendations for scheduling, dates and performances. We also have a highly qualified group of professionals willing to conduct educational activities or workshops as part of this tour.
Proscenium Club has secured an Ontario Arts Council touring grant to support this work allowing for costs associated to travel and accommodations to be covered by the grant, allowing your presenting space to engage with this production at a reasonable rate. We want to explore partnerships and disseminate this performance as far and wide as possible. For more information or to schedule a meeting to explore details, please contact our Production Manager, Clayton Windatt at claytonwindatt@gmail.com, or visit our website: www.prosceniumclub.com.