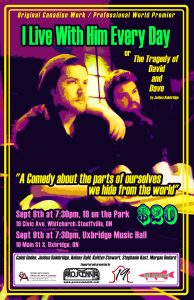 I Live With Him Every Day: The Tragedy of David and Dave
Written and directed by Joshua Bainbridge
CAST
Caleb Geden – David
Joshua Bainbridge – Dave
Kelsey Ruhl – Sarah
Kaitlyn Stewart – Ginny
Stephanie Kast – Alex
Morgan Bedard – Mark
I Live With Him Every Day explores the truth we are all afraid of realizing; that we might not be special. It examines the lives of five young people struggling to live in a world in which parents are absent and friends make desperate efforts to fill the gap. With a fresh, contemporary voice, this dark comedy is an edgy portrayal of youth lost and adrift in the big city.
Although this is the first play staged by the newly formed Proscenium Club, its members have been working in the Northern theatre scene for the past few years. Bainbridge, who founded the troupe just this summer, has been writing and producing his own works since 2010 after graduating from Canadore College's Theatre Arts program. Seeing a shortage of new theatrical works emerging from Northern Ontario, he brought together several passionate like-minded artists to form a self-sufficient professional theatre company to create and produce new Canadian works.
This small tour was conducted in collaboration with the Future In Safe Hands (FISH) Collective (www.fishcollective.com), a cross-cultural multi-arts collective of Indigenous and non-Indigenous artists operating out of the North Bay area.
We visited
NORTH BAY at Big Medicine Studio
STOUFVILLE at 19 On the Park
UXBRIDGE at the Uxbridge Music Hall