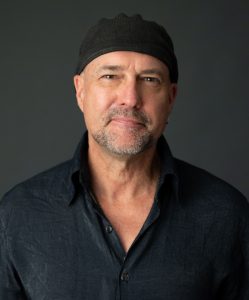 Rod is the founding Artistic Director for the Acting for Stage and Screen Program at Canadore College and Artistic Director for Rep 21 (2005 – Present).
Recent film and television acting credits include 3 seasons on Hard Rock Medical (TVO), Cardinal (CTV), Carter, Joseph and Mary, Frat Pack, A Dark Truth, Algonquin, The Savage Tales of Summer Vale and Harold and Lorna.  
Stage acting highlights include: The Crucible (Sun Dog Theatre Festival), Zastrozzi (Paper Bag Productions), Dracula + The Foreigner (GTG), Poison Ground (On the Edge Fringe Festival), Glengarry Glen Ross (2014 Theatre Ontario Festival – GTG), A Picasso (Word Toast Transport), Three Musketeers  + Four Muskateers (J2 Productions), Waiting for Godot (Winner – 2010 Theatre Ontario Festival – GTG), Coriolanus (Walking Shadow Theatre) and four seasons with the Highlands Summer Theatre Festival.. He also starred in two of his original plays – Slam! and Witless (OAC Northern Arts Grants projects)
Rod has directed over 125 productions to date, both nationally and internationally, ranging from the classics to the development of new Canadian work. Recent directing credits include Shakespeare in Hollywood (Rep 21), Arsenic and Old Lace (GTG 70th Anniversary), Hurray for Johnny Canuck! (Canadore College), Eighteen Degrees (Stratford's Spring Works Festival + North Bay), 1837: The Farmers' Revolt (GTG – commemorating Canada's 150), Romeo + Juliet and King Lear (Watershed Shakespeare Festival). Previous Rep 21 directing credits include:  The Lark, Barefoot on the Moon, The Tragedy of David and Dave, Passion Play, As You Like It, The Donnellys, Macbeth, The Lieutenant of Inishmore and The Libertine.
Rod directed the Ontario premiere of Martin McDonagh's The Lieutenant of Inishmore at the Berkeley St. Theatre in Toronto and the Canadian premiere of Talking to Terrorists. He is as an Associate Producer on the independent film The Drawer Boy, making the rounds on the festival circuit.
Rod was the founding Artistic Director of the Nipissing Stage Company in North Bay from 1999 to 2005. He directed 25 mainstage productions including the Ontario premiere of Martin McDonagh's The Cripple of Inishmaan and Northern Ontario premieres of Picasso at the Lapin Agile and Stones in his Pockets as well as serving as co-author/director on the original musicals Train Town and Wanted.
Additional directing highlights include the Northern Ontario premieres of The Laramie Project, Angels in America, 365 Plays/365 Days, Our Country's Good, The Othello Project and High Life. The Othello Project was originally mounted at the Ford Centre for the Performing Arts in 1995. Rod was nominated for a DORA Award for Outstanding Direction. The Othello Project received its American premiere at the Florida Shakespeare Festival in Miami in 1998.
He is recognized nationally for his directorial adaptations of Shakespeare, having adapted and directed 17 of his works. He was the 2009 winner of TVO's Big Ideas/ Best Lecturer Competition for his lecture: "Adapting Shakespeare within a Modern Canadian Context."
Rod served as an Assistant Director at the Stratford Festival in 1990 and 1991 (Young Company) and was the first recipient of the Festival's Jean Gascon Director's Award and 3 Tyrone Guthrie Awards. He was inducted into the Brockville and Area Music and Performing Arts Hall of Fame in 2017 and the North Bay Entertainers Hall of Recognition in 2015 and was nominated for the K.M. Hunter Artist Award for Theatre, the John Hirsch Director's Award and Pauline McGibbon Award.
Rod completed an Ontario book tour in 2017 with his debut novel, A Matter of Will (short-listed for a 2018 Northern Lit Award). His creative non-fiction story, A Farewell to Steam, was published in the newly released anthology, Up North 150 Years and More.  His second novel, Kinmount, will be released in the spring of 2021 with Latitude 46 Publishing. Visit his author's website at www.rodcarley.ca.
The Proscenium Club is thrilled to have Rod bring his energy, dedication and years of experience to this years tour where he appears as Agent Marshall.